**The forum page crashed as I was descriptively describing the situation. It was quite lovely. but because the crappy adds keep flipping, and the forum itself is... not quite up to modern standards, there is no lovely writing to be posted**


As the campfire crackles, Stories of what the Guildhall's Doorknob could be, and of course the retelling of "Barry's Bottomless Barrel", a story that every adventure and bard knows by heart.

After a wishful moment shared by all, the silence is broken to share another rumour by ...

ConnorBS

Administrator





Posts

: 61

---

Reputation

: 4

---

Join date

: 2012-01-13


Location

: Ontario, Canada



Dorritos.

He clears his throat to speak of the rumoured "Mr. Cluck the chicken".

"This legendary mount was feared by everyone. Only one person was able to tame this mount, one of the old guild masters, but his name was lost to time. Its made out of pure darkness and can run up to 75 MPH. It was said that it could one shot a dragon with the claws on its feet. standing at 8ft tall and the only one of his kind. Mr. Cluck the chicken."

"At least that's what I heard", Doritos sighs...

ConnorBS

Administrator





Posts

: 61

---

Reputation

: 4

---

Join date

: 2012-01-13


Location

: Ontario, Canada



Ah the dreaded mount is nothing but a myth surely. I heard the real treasure was the necklace of alacrity. Made of the blackest of black onyx with a single large sapphire with 4 triangular sides, flawless but for a different number of marks on each side. It was said to quicken the wearers reflexes and fortify their muscles to make them faster. It is rumoured in the deepest of halls that the wearer would have an uncanny ability to avoid 1 out of every 4 attempts on his life simply by luck. That's the real treasure in the Dream guild halls. Not some mythical beast!

EvilGummyBear

Clan Leader & Co-Founder





Posts

: 260

---

Reputation

: 18

---

Join date

: 2009-05-29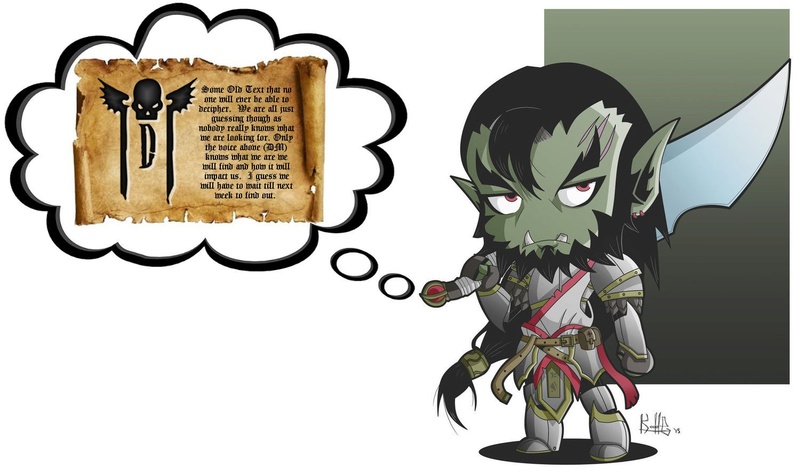 Urug shrugs his shoulders,
"hmpf... I heard it was a ancient parchment which held the tale of how it all started, and that it was enchanted with a connection to a pair of dragons who defected. Abandoning their kindred and going rogue it is said. This was a millennia ago though. Holding the parchment they say can enable the bearer to gain the strength and knowledge of these said dragons. These are just the tales though..."
Urug looks down and picks up his whistling maul and starts to polish with a rag from his pouch...
_________________
Hearing the others tell campfire stories about the mighty guild, I take a moment from practicing my lassoing to go share a tale I had heard of during my adventures at sea
 

"Telling stories huh, well I have one too. The treasure that you all speak of, it is said to be a stick. Nothing else, just a stick from an old tree. The legend goes that during the war when the guild had fallen and the clan leaders were surrounded on the top of this very tower whose shadow we sleep under, they had all harnessed a part of each of their powers or attributes and had infused it into the stick. Why a stick you might think, well they WERE surrounded and nobody would pay attention to a stick. It is said to contain the power to turn into 5 different kinds of weapons, 3 kinds of shields, and can cast 2 deadly spells. All you had to do to activate it was hold it in your hand and fart 3 times, 2 long and 1 short. I personally think that the farting idea was from of their loonier leaders, but anyway nobody knows where in the tower they hid the stick, or if it's even real for that matter. Sigh, now I have a craving for beans…."

Batman

Starting Out





Posts

: 37

---

Reputation

: 1

---

Join date

: 2017-02-28


Age

: 26


Location

: up yer arse

D&D Character


Name

:

Joe the Friendly Dragon




Race, Class

:

Barbarian Dragon-born




Weapon of Choice

:

Trident



Azrael sat down watching the fire, looking around he decided to share rumour of a item he once heard about on his journeys. 

"Along time ago there was a simple silver locket that once belonged to a wizard of great power,  this wizard had crafted the locket with one ability and one singular ability alone and it was the ability to take anyone who struck him in anger his life's health and leave him at deaths door unless the attacker was mentaly strong enough to resist the power of this simple locket"

The rest of the group gently laughed and chuckled at such a item, Uruk bellowed at azreal while drinking a flagon of wine and said to him.



"Okay warlock tell me how with such a item the wizard then died..."



Azrael's eyes darkened and then replying to the Orc he said this


"As legend had it orc, the silver locket only would work one time only during a full day cycle only to recharge afterwards and any attempts at theft left thieves stone cold dead.  As the legend goes that the wizard had killed a love rival of a foreign princess of Indus and her brother wanting vengence for slaying such a good man decided to challange the wizard to  a duel and as the locket tried to steal the mans life force, the man was able to resist by sheer force of mental intention and proceeded to then slay the wizard"


Uruk looked at Azrael and then said back



"So tell me then Azrael where does this silver locket reside?"


Azrael shot a look at Uruk and replied to him


"After the duel, the man who had slayed the wizard took the amulet and went to an ancient tower to hide such a powerful item away so no one could ever find it and cause such ill amongst the land"


As the story finished, the group then put a leg of lamb on the fire with Joe slowly breathing flames to roast the food and snicker at the warlock for such a foolish story...

Cain

Starting Out





Posts

: 2

---

Reputation

: 0

---

Join date

: 2017-04-19



Similar topics
---
Permissions in this forum:
You
cannot
reply to topics in this forum